Complimentary, CLE-eligible Webinar
Date: September 21, 2022
Time: 1pm ET / 10am PT
Data science is increasingly forming the backbone of many litigation strategies — and while many were initially wary of this strange new entrant into the legal realm, delayed adoption of data science and the valuable trends and quick results it brings can lead to costly, risky mistakes.
Join our expert panelists for a 60-minute, 1.0 CLE eligible webinar, Differentiate with Data Science: A Guide for Litigators for the latest guidance to:
Understand recent trends in data science in recent litigation – with an emphasis on scenarios and cases where data science played a critical role.
Evaluate the data scientists role within a legal organization to maximize ROI from analysis and modeling capabilities
See broad applications of data science in litigation across a range of practice areas, from labor & employment, to privacy & data security, M&A, health law and more.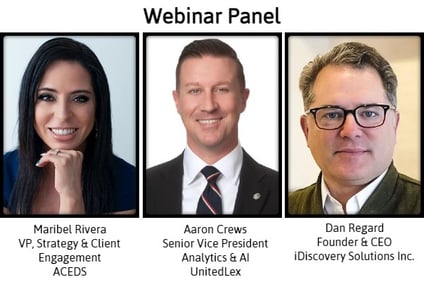 If you are not able to join at that time, please register now and a replay will be sent to you.