By doing your research and asking questions, you can guarantee that you select the correct legal practitioner to offer you essential advice and representation for your legal matter. 
---
Legal matters can be complicated and intimidating, especially if you are unfamiliar with the law. You don't have to confront them alone. Getting legal assistance online has become more accessible and convenient in today's digital era. There are various possibilities for getting legal assistance without leaving your house, whether dealing with a personal injury, a family law case, or a conflict with your work. 
We'll look at the many options to get legal assistance online in Australia, including law firms, legal aid, online legal advice providers, and community legal centres. We'll also provide you with tips on how to pick the best provider and confirm that you're getting trustworthy and skilled legal advice. 
How to get Legal Assistance Online
Knowing now that you can get legal advice online, we will now be looking at the various online services that provide legal advice to users from the comfort of their desk/couch. These service providers include:
Law Firms
Many law companies provide consultations and guidance through the Internet. You can search for legal companies that specialize in the subject of the law that you need assistance with and see whether they provide online consultations. You may also look for online-only law companies that solely provide legal services online.
Legal Aid
If you cannot afford a lawyer, Legal Aid can provide you with free legal advice. They offer free or low-cost legal counsel to anyone who fulfills their eligibility requirements. You may apply for Legal Aid online, and they will either call you or suggest you to a lawyer who can assist you.
Online Legal Advice Services
In Australia, there are various online legal consultation providers. These services put you in touch with a lawyer who can provide you with legal guidance on your unique concern. These businesses often provide legal advice for a fixed price.
Community Legal Centres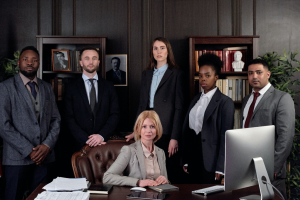 Throughout Australia, community legal centres offer free legal assistance and information. You can search for a local community law centre and see if they provide online consultations or help.
When seeking legal assistance online, make certain that the practitioner is a competent and licensed lawyer in Australia. You can look into the lawyer's credentials by checking the Australian Legal Profession Register.
5 Tips to Pick the Best Legal Service Provider 
When selecting a legal professional in Australia, numerous criteria must be considered to ensure that you receive the best advice and representation for your legal issue. Here are some pointers on how to choose the best legal service provider in Australia:
1) Expertise
Look for a legal service provider who specializes in your legal issue. For example, if you have a family law issue, you should seek a legal practitioner that specializes in family law. This ensures that they have the skills and experience required to handle your case. Legal providers' areas of specialization can be researched on their websites or by verifying their profiles on the Australian Legal Profession Register.
2) Reputation
It's critical to investigate a legal provider's reputation to ensure that you select someone who is respected and reliable. Reading reviews and testimonials from prior clients on their websites or on third-party review websites might help you determine a legal provider's reputation. You may also search the Australian Legal Profession Register to see if they have any disciplinary actions or complaints against them.
3) Cost
To minimize surprises, it is critical to understand the cost of the legal provider's services upfront. Inquire about their prices and any extra expenditures, such as court filing fees or expert witness fees. Some legal services may have set costs or payment plans that allow you to pay in installments. Make sure you understand their fee structure and any payment options available.
4) Availability
Consider the availability of the legal service and whether it fits into your schedule. If you need to meet with them in person, think about where they are and whether it is convenient for you. Maybe they offer online consultations as a possible option. Some legal providers may offer after-hours or weekend appointments, so make sure you ask about their availability. 
5) Qualifications
It is critical that the legal service you select is qualified and licensed to practice law in Australia. You can look up their qualifications on the Australian Legal Profession Register. This will reveal whether or not they are admitted to practice law in Australia, their field of practice, and any disciplinary proceedings or complaints lodged against them.
 Checking their credentials can assist you to verify that you are receiving trustworthy and qualified legal advice.
Conclusion
Selecting the best legal service company in Australia necessitates careful consideration of various variables. By doing your research and asking questions, you can guarantee that you select the correct legal practitioner to offer you essential advice and representation for your legal matter.