In the ever-changing online market, looking to your customers for their support and reviews is crucial.
---
Do you want your business to succeed online this year? Google is the hub of online shopping in the 21st century. Whether shoppers are browsing or ready to purchase, they turn to Google to decide which business they can trust. Google Reviews are an essential part of the process.
A whopping 93% of shoppers read online reviews before making a purchase. Google Reviews has never been more critical to the continued success of online businesses. When potential customer searches for your business, they are immediately greeted with an average rating out of five. These reviews are the make-or-break between acquiring a new customer and them looking elsewhere.
Why are Google Reviews important?
Keeping your business's Google listing updated is essential to the continued success of the business. This includes gathering reviews and engaging with them. As a business owner, you can reply to customer reviews. This is a crucial part of boosting your business. Respond to positive reviews thanking the customer for taking the time to support your business.
You can also reply to negative reviews. If the review raises a valid complaint, you can contact the customer to see if you can help them with their complaint. It is fair to ask them to remove their negative review upon resolving the issue. If your business receives a negative review that has no validity, you can report it to Google to have it removed.
Another key reason Google Reviews are essential to good business is the search engine itself. The more positive reviews your business has, the more trustworthy your business is in Google's eyes. The search engine is more likely to rank your business if it has highly positive reviews.
How to get good Google Reviews?
A practical approach to obtaining positive Google Reviews is asking your customers to share their feedback. You can provide them with a Google Review QR code that leads them to the Google review page. QR codes can be conveniently shared through digital platforms like email or text and displayed in your physical business location.
The timing of asking your customers to review your business is essential. For example, if you got an email from a company you purchased three months after using their services, leaving a meaningful review would be difficult.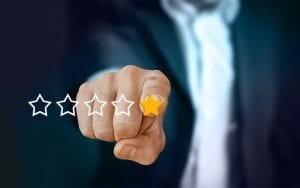 Equally, if you got the email while you were still in the store or you had just left the business, you'd likely decide to respond later on, leading inevitably to forgetting all about it. Instead, prompt customers to leave you a review one or two days after they have purchased from your business. The memory of your service will be fresh in their minds.
You should avoid sending the prompt during the standard 9 to 5 working hours. Your previous customers are likelier to leave you a review if prompted first thing in the morning or later in the evening. Aim for when most people are at home and available to get the most out of your request.
How do legal and regulatory trends affect Google Reviews?
Google has evolved significantly since the company's inception. As the 'wild west' of the internet has become regulated and organized, Google has refined what is acceptable and unacceptable on its platform. Google's prohibited content spans from everything, including profanity, to harassment, to off-topic information. 
The Google local guides pages can keep you up-to-date about what is and isn't acceptable on the site. Their help pages are informative and straightforward, making it easy to ensure you stay in their good books. Google's restricted policies apply to their review pages, meaning that reviews you receive and your replies must fall in line.
As a business owner, you must be informed about regulatory changes that could impact your Google page. Proactivity is vital when it comes to staying in the legal loop. Thankfully, Google has a good track history of making their updates easy to track. In any case, keeping tabs on upcoming rules and regulations changes could be good.
For the first time, Google's review system allows customers to impact what makes an online business successful directly. Contact your customers to hear their thoughts if you're confident in your ability to provide excellent products and services. 
In the ever-changing online market, looking to your customers for their support and reviews is crucial. Not only can you get good reviews this way, but you can also gauge ways for your business to improve going forward.