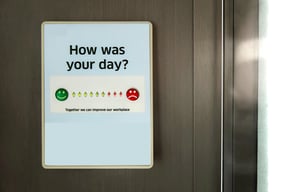 Legal departments aren't immune to the unexpected forces that have wreaked havoc on virtually every industry across the nation and globe over the past couple of years. The combination of COVID, the Great Resignation, and a changing economy has propelled many in-house lawyers to reexamine their priorities, their career goals, and where, how, and for whom they work.
Axiom 's "View from Inside" survey explored the mindset of 300+ in-house lawyers working across various enterprises, practices, and industries to understand their perspectives on their current roles and career trajectories. What we found does not paint a pretty picture of the state of the in-house legal department: Satisfaction is low, attrition is high, and burnout is real.
Here's the bottom line: if you are a GC or in-house legal leader, more than half of your legal team should be considered a flight risk, with their replacements hard to find and even harder to actually hire.
So how can legal leaders best navigate their attorneys' most pressing pain points, and how can they mitigate the risk of accelerated attrition?
This webcast will explore:
In-house lawyers' biggest pain points, including resource bandwidth and hiring and retaining lawyers

Why legal leaders should be rethinking the traditional "staff-up or send-out" paradigm

Why flexible talent is a gold standard resourcing model

How to implement a flexible talent pilot
If you are not able to join at that time, please register now and you will receive a replay to watch it on-demand.