ShelterLogic Group is recalling certain folding chairs that may pose an injury hazard.
---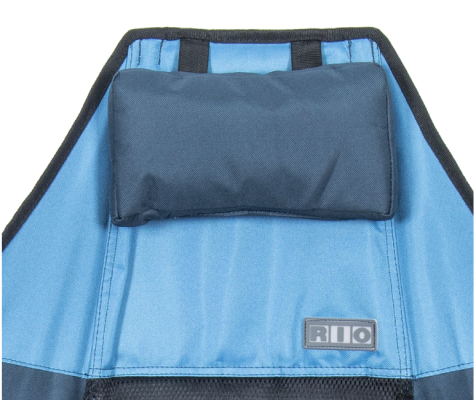 Yesterday, a recall was announced for more than 700,000 RIO-branded swinging hammock chairs over concerns that the legs of the chair may collapse and pose an injury hazard. Already the Consumer Product Safety Commission (CPSC) and ShelterLogic Group have received 24 injury reports from consumers who fell while sitting in the chairs, including "bruises, aches, and pains, head lacerations, back strain, concussions, and abrasions."
ShelterLogic Group is the company behind the chairs. According to the recall notice, the defect in the affected chairs is caused by the "improper insertion of the pins provided for assembly." When improperly inserted, the legs of the chai can collapse without warning.
The recall notes that the frame of the folding chairs is black and gray metal. The chairs have a "fabric seat and a backrest with a pillow," and some chairs even have drink holders. The chairs were available in navy, gray, red, blue, and camouflage. RIO is also printed on the chair below the pillow.
The chairs were available between January 2020 and June 2022 for $40-$60 at retailers like Camping World, Blain's Farm & Fleet, Costco, Lowes, Tractor Supply, and online retailers like Amazon, Walmart.com, and others.
For now, consumers who have the recalled chairs should stop using the chairs immediately and contact ShelterLogic Group for instructions on how to properly insert the safety pins in the chairs. Those instructions can also be found at www.Safety.ShelterLogic.com.
If you have additional questions or concerns about the recall, contact ShelterLogic at 888-635-3359.
Sources:
700,000 swinging hammock chairs recalled after falls, injuries
ShelterLogic Group Recalls RIO-Branded Swinging Hammock Chairs Due to Injury Hazard; New Instructions Provided