A new tool soon to be released by the no-code bot development company LawDroid uses the artificial intelligence of GPT-3.5 to serve as a lawyer's virtual legal assistant, able to help with researching legal issues, drafting emails and letters, summarizing documents, brainstorming blog ideas, and even just conversational chatting.
Called LawDroid Copilot, it is currently available only by request on an early-access basis, but will be generally available later this year.
Unlike LawDroid's other product, Builder, a no-code development platform law firms can use to build chat bots, Copilot is an attorney-facing tool that can assist lawyers in performing a variety of tasks. Currently, it is able to perform eight types of functions:
Research a legal issue.
Provide simple summary.
Correct my grammar.
Draft an email.
Brainstorm blog ideas.
Chat about anything.
Translate into another language.
Something else.
Learn more about LawDroid in the LawNext Legal Technology Directory.
Recently, Tom Martin, LawDroid's founder and CEO, walked me through a demonstration of some of these features. For anyone who has tried ChatGPT, the interface will look familiar, except that it has been fine-tuned to perform the specific functions I described above.
---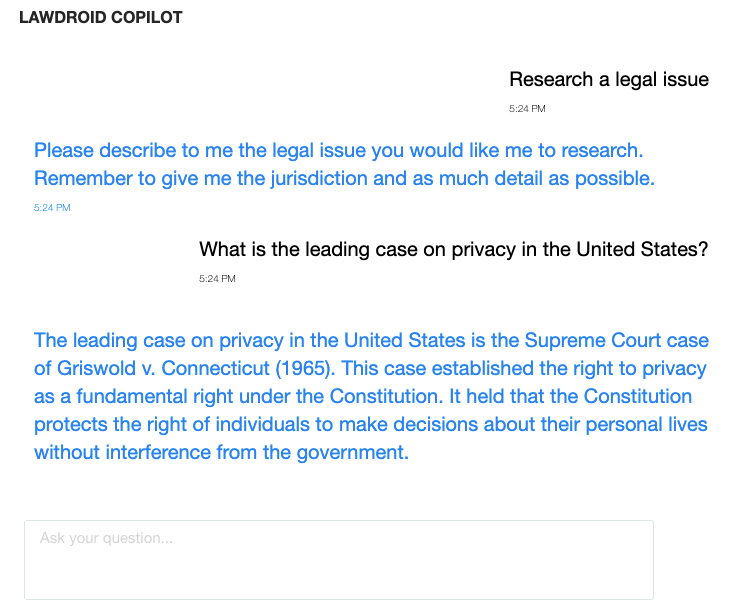 ---
Legal research. In the example you see above of using Copilot for legal research, the lawyer asks for the leading U.S. case on privacy. It provides a straightforward answer of what is perhaps the oldest case on privacy, Griswold v. Connecticut. Martin said the lawyer could then ask follow-up questions to get more information, such as, "What is the case about?", or, "Who were the justices in the majority?"
"It's kind of like talking to a well-read law clerk versus doing LexisNexis Boolean searches," Martin said.
As of yet, Copilot does not directly integrate with any legal research database. But Martin sees the possibility for that on the horizon.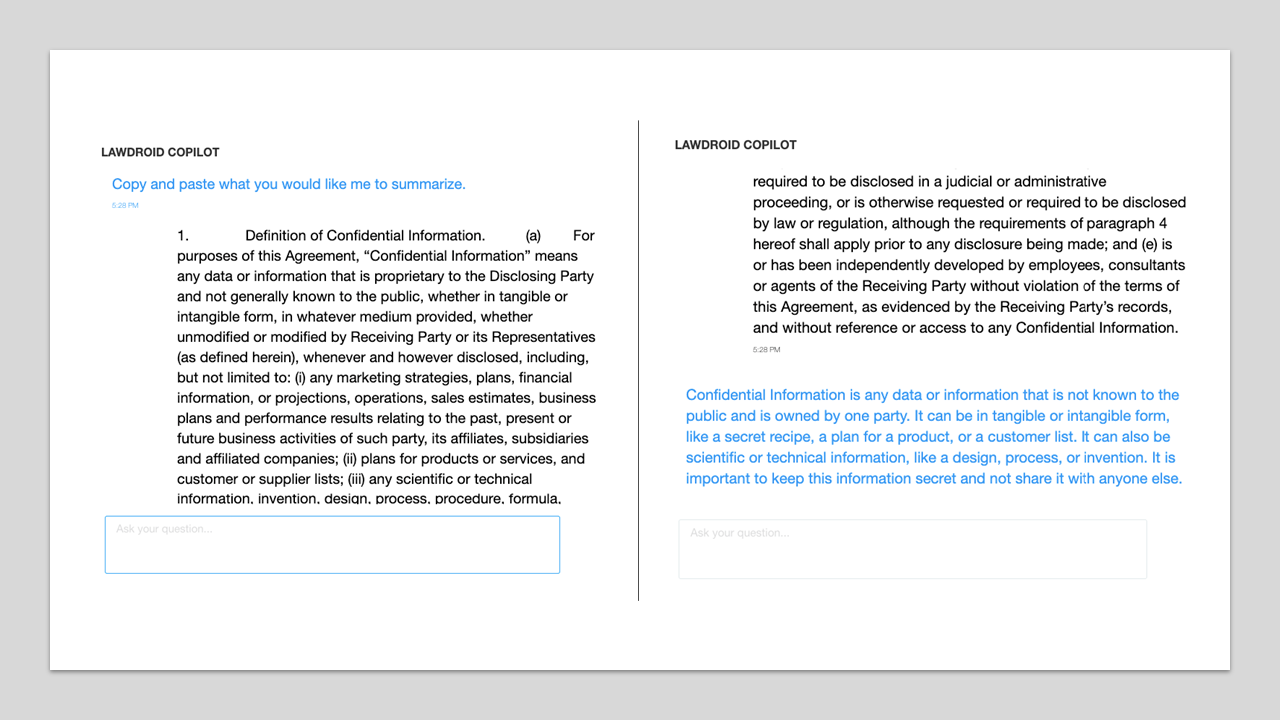 Simple summary. A lawyer would use this to create a summary of legal language, such as in a contract, perhaps to send to a client. In the example above, Copilot is asked to provide a summary of language from a non-disclosure agreement. Simply copy the language and paste it into Copilot, and it creates a simple summary.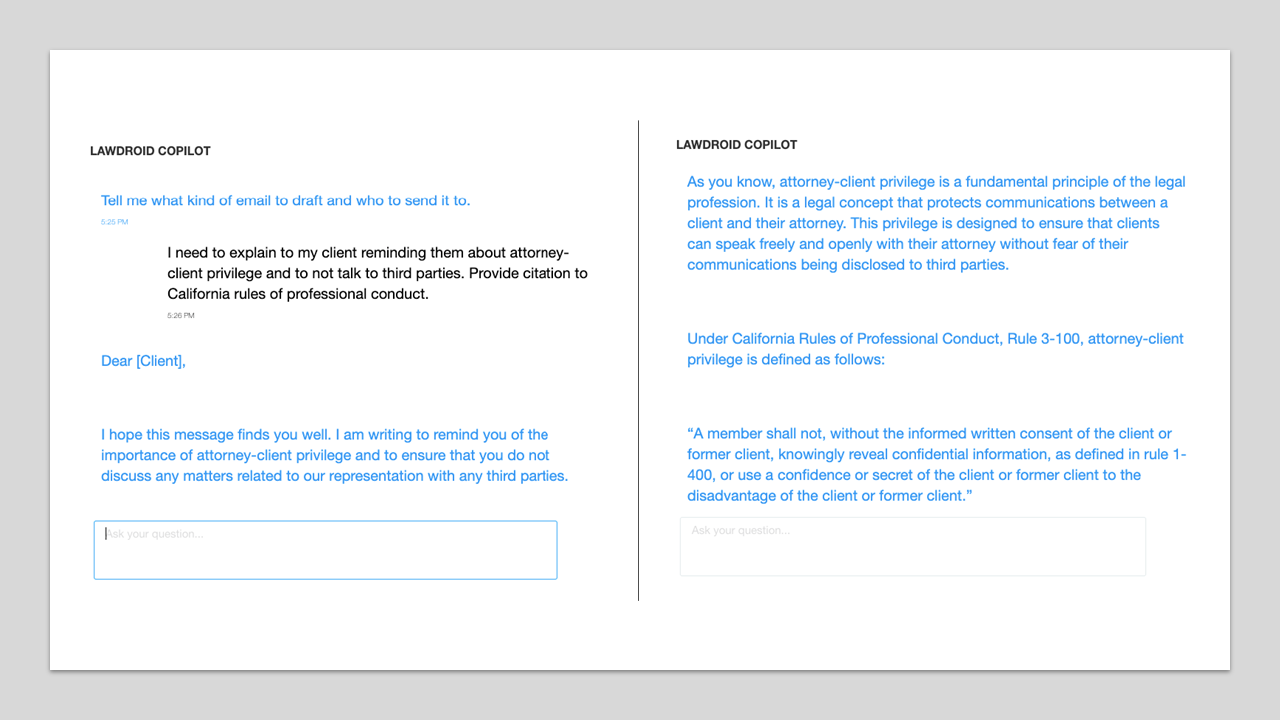 Draft email. In this example, the attorney is asking Copilot to draft an email to a client explaining the attorney-client privilege and including a citation to the California rules of professional conduct. In just a few seconds, it generates an email that gives the lawyer a template to use in writing to the client.
Martin emphasized that this is not a "set it and forget it" technology in that it is creating a finished product. "The mindset should be one of creative collaboration. If you have that mindset, you can make great use of this."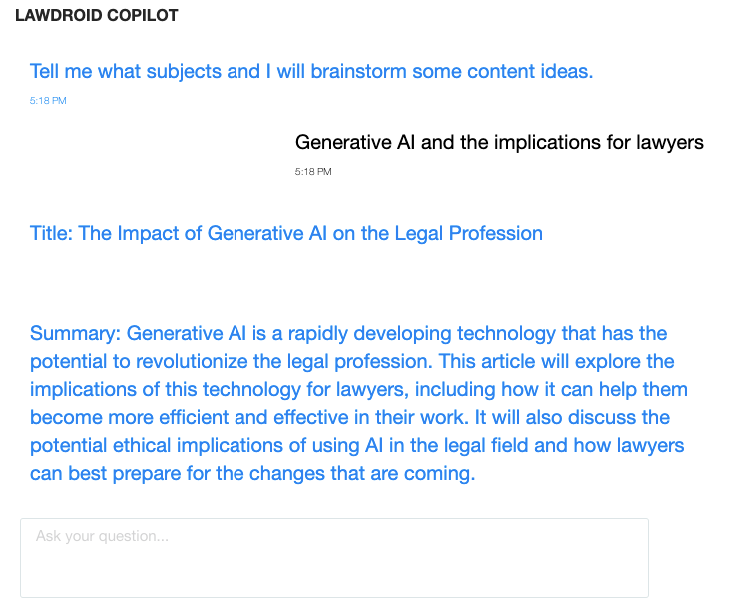 Brainstorm blog ideas. Martin said this feature could be useful to a lawyer who is trying to come up with ideas for a blog post or podcast — particularly a solo who has no one to bounce ideas off of. The idea is not for Copilot to write the post, but to help the lawyer get past that initial writer's block.
So, as shown above, the lawyer might tell Copilot to come up with ideas for a post about the ethical implications for lawyers of using generative AI. Copilot comes back with a title and enough text to perhaps get the lawyer started on the post.
Translate into another language. Copilot has the ability to perform basic translation, which is so far limited to Italian and Spanish. Additional languages will be added, Martin said. Copy and past any test into Copilot, and it will translate into the requested language.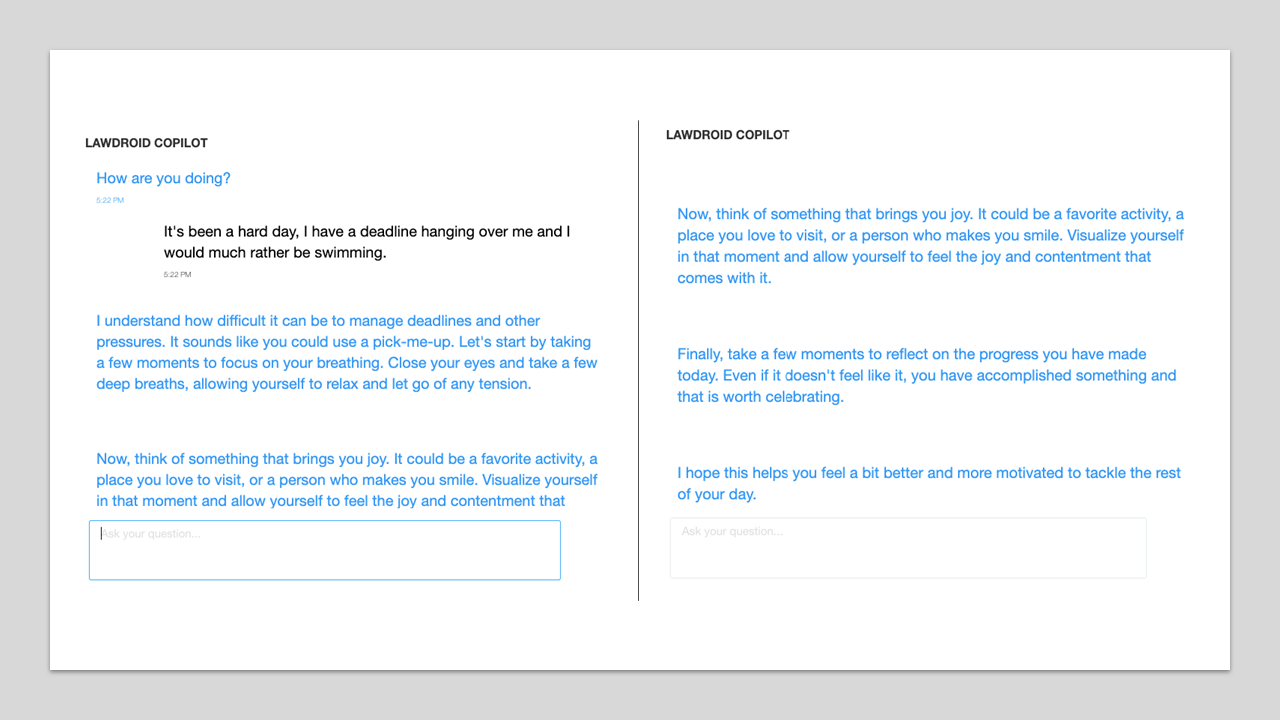 Chat about anything. This feature, Martin says, is for that lawyer who perhaps is having a tough day and needs a bit of emotional support. The lawyer can unload a bit onto Copilot, and it will respond. The lawyer can keep going in a casual back and forth, and Copilot will continue to engage.
While this early-access version comes with these eight specified functions, Martin said later versions will allow lawyers to build their own customized versions. It will also include the ability to generate documents.
Copilot is developed on top of the same no-code platform that powers LawDroid's Builder platform. That will enable lawyers to go into the back end and do their own customization.
Also on the roadmap is to allow law firms with a specific need, such as for discovery, to provide document sets that LawDroid can use to further train and fine tune Copilot.
So far, the only public-facing application that has already been built using the Copilot technology is the digital assistant for criminal defendants being used by Judge Scott Schlegel, the Louisiana judge who has been widely lauded for his use of technology in his court. (He also has one for civil cases.)
While this could have been built using Builder alone, it would have required developing the complex set of "intents" — or user goals — that would be required for criminal cases. Using Copilot and GPT, the judge was instead able to effectively "dump" a knowledge base of anything a criminal defendant might want to know, creating what is basically one intent that is able to answer most any question.
Martin said he has not decided on pricing for Copilot, but he said that he plans to keep it affordable. He thinks it will be particularly useful for lawyers practicing in areas such as personal injury or family law where lawyers need assistants but may not want to spend that extra money on hiring.
For now, anyone interested in trying Copilot can request access through Lawdroid's website.