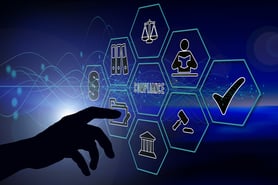 Today, nearly every company that builds applications
uses open source software — and the majority of organizations use significant amounts of it.
Although the explosive growth of open source
has yielded numerous benefits (including cost savings
and faster time to market), it's also led to increased scrutiny of OSS license compliance (e.g. the ongoing matter of SFC v. Vizio). As a result, organizations without comprehensive compliance programs may face exposure to the legal, reputational, and financial risks that can come with non-compliance.
But while the license compliance field is still evolving, there are certain proven processes, tools, and workflows that can help organizations successfully manage compliance-related risk.
Join IP attorney Kate Downing, a leading expert in open source license compliance, on Nov. 16 to uncover the key ingredients of a comprehensive, effective, and efficient compliance program. 
Kate will offer practical guidance on areas like:
Implementing license/legal review processes that don't create a bottleneck for engineering 
Creating attribution files for distributed products
Preparing source code files (for compliance with copyleft licenses)
Leveraging code scanning software
Bringing these tools and processes together into a scalable, efficient, and effective program