Why Annual Budgeting Isn't Enough Anymore
The how, what, and when of legal forecasting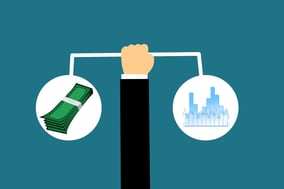 That was then, this is now.
"Then" was the end of 2021. 
Legal departments were experiencing unprecedented budget pressures due to COVID-19 and other factors. 
That planning cycle marked an optimal time to shift dollars away from fixed costs and toward more variable spend. 
But this is now. 
"Now" the budgeting season is (largely) behind us. 
However, the pressures GCs were dealing with then are still very much present — and are further complicated by record inflation and talent recruitment challenges.
Following up on Axiom's 2022 Legal Budgeting Strategy publication, this eBook revisits the financial exercise in light of these new circumstances. 
And instead of focusing on increasing agility through year-end planning, it examines how dynamic forecasting can help GCs better address spend in real-time.
Download it now to learn: 
The difference between legal budgeting and legal forecasting 
The legal department pain points of 2022 
Three steps for implementing agility-based forecasting now 
Agility-based financial modeling